Vehicle Accident Injury Law
Experienced Auto Accident Injury Attorneys Serving Hampton Roads
We Don't Charge Attorney's Fees at all Unless We Recover a Settlement or Award for You!
Schedule an Appointment at One of Our Four Convenient Hampton Roads Offices Near You!
What is injury and accident?
Hundreds of people die each year in motor vehicle accidents, and more than 67,000 people suffer a motor vehicle injury on the streets and highways in Hampton Roads. If you are involved in one of the many accidents that happen on Virginia roads each year, then you need an experienced motor vehicle accident lawyers.
The attorneys of  The Law Offices of John W. Lee, P.C., have more than 70 years of combined personal injury law experience to provide superior representation and legal advice.  If you are the victim of the negligence of another driver, we will fight to obtain the compensation you need and deserve.  In Virginia, passengers and third parties may also recover damages when injured in vehicular accidents.
Can you sue for pain and suffering in Virginia?
If you suffer a motor vehicle injury in Virginia, you are entitled to sue the driver who caused the accident. The laws in the commonwealth make a negligent or at-fault driver responsible for compensating accident victims for their injuries, including:
Medical expenses
Rehabilitation and physical therapy costs
Lost earnings and wages
Pain and suffering
Diminished future earning capacity
Unlike states having no-fault laws, recovery of damages incurred in an automobile accident in Virginia depend upon the ability of an attorney to prove fault on the part of another party in causing the crash. The attorneys working for the victims attempt to settle the claim for compensation with the insurance company issuing the liability insurance policy covering the at-fault motorist. If settlement fails, the lawyers have the ability to file a lawsuit to use the courts to obtain the compensation their clients deserve.
In order to be successful in a vehicle accident injury case, you must be able to prove that the other party was completely at fault and that you were faultless. Contributory negligence, where the plaintiff has not used the appropriate amount of care, is a complete bar on personal injury cases in Virginia. For example, if you are driving through a red light when a drunk driver hits you, you are not eligible to recover damages.
What things must a court consider in reviewing punitive damages?
If the accident was so egregious or willful, punitive damages may be awarded to account for the extreme circumstances under which the accident and injuries took place.  Punitive damages are possible when there is a serious injury or death due to a drunk driver induced accident.
What are the steps to follow after an accident?
Motor vehicle crashes are sudden and violent events. An injury only adds to the shock and confusion you experience following an accident. The following of some of the first things you should do after a collision:
Contact the police immediately and do not move your vehicle until they arrive. The police will either give you a copy of the accident report they prepare or tell you how to get a copy.
If you or someone else is injured, seek medical treatment right away.
 If you are physically able to do so, take pictures of the scene.
Get the names and contact information of anyone who might have witnessed the accident.
Report the accident to your insurance company.
How would you describe accident to insurance company?
Contact a car accident injury attorney from the law firm of John W. Lee, PC before speaking to insurance adjusters or investigators working on behalf of other motorists involved in the accident. Statements you make to them could affect your ability to recover damages. For example, you might not realize the seriousness of your injury for several hours or several days following the accident, so telling an insurance adjuster who calls you the day after your accident that you feel okay will be used to minimize the extent of your injuries.
Should I tell my doctor I was in a car accident?
Injuries suffered in an accident might not be apparent immediately after an accident. If you have been in an accident and believe you might have suffered an injury, you should see a doctor right away. Plus, delay can cost you the right to recover damages.
It is important to let your doctor know about the details of the accident so he or she can focus the examination on diagnosing possible injuries.
What are the 4 most common causes of accidents in Hampton Roads?
There are any number of factors that could contribute to causing a vehicle to collide with a pedestrian, another vehicle or with stationary objects, such as light poles, signs and fencing. How drivers conduct themselves when behind the wheel can be a major factor in causing an accident. Common causes of vehicle collisions include the following:
Driving under the influence: Drugs and alcohol can affect a driver's judgment, reflexes and coordination. A person injured in an accident with an impaired driver can recover damages if there is proof the driver knew of the impairment and the accident was caused by it.
Distracted driving: Texting or talking on a mobile device takes a person's attention away from the task of maintaining control over a vehicle and keeping a lookout for vehicles, objects and people on the road. Texting is illegal in Chesapeake and other communities in the commonwealth.
Speeding: Drivers are required to maintain control over their vehicles and to operate them in a safe manner. Speeding, which is driving at speeds in excess of the posted speed limits, is illegal and unsafe.
Weather and road conditions: Rain, snow, ice and fog are weather conditions requiring adjustments by drivers in their speed and in the way they operate their vehicle in order to maintain control. Potholes, debris and other road hazards can also require drivers to slow down or take other precautions to drive safely.Drivers failing to keep control over their vehicles in order to avoid collisions can be held liable to pay compensation to individuals injured due to their negligent conduct.
When an accident is caused by road conditions or stationary objects, the party responsible for causing or contributing to a person's injury could be a municipality or construction company. For example, the design of a road could make it prone to causing accidents. In such a case, Virginia car accident attorneys could include the municipality as a responsible party in the lawsuit filed on behalf someone injured in an accident. 
Laws Collide: How does bankruptcy affect a settlement?
If you are filing bankruptcy, then you must list the personal injury claim; or risk losing the claim and right to collect damages. Most Personal Injury settlements are exempt from creditor collection in bankruptcy, but the debtor's injury claim MUST be listed in the schedules as an asset. Insurance defense lawyers know that debtor has a duty to list all assets in his bankruptcy schedules; if the accident claim is unlisted, it is the same as stating under oath that the defendant does not owe you any money.
To maintain the injury claim after discharge, all you must do is make certain the claim is properly listed and exempted in your bankruptcy schedules. Make sure you tell your bankruptcy lawyer about all pending personal injury actions, including mass tort litigation and class action suits to which you may be a party.
How can I protect my settlement money?
In some personal injury cases, the plaintiff will file bankruptcy before receiving his settlement award. In these cases, the plaintiff/victim will list his medical bills on his bankruptcy. Even if you listed your medical bills in the bankruptcy, your personal injury lawyer will still have to pay to the medical providers their statutory liens. In some cases, the fact that you discharged certain medical bills may result in receiving less of an award, but that is offset by the fact that you won't have to pay the medical providers their full claim.
You should contact a car accident injury attorney right after you see your physician. Virginia law limits the amount of time you have in order to start a lawsuit to recover damages suffered due to the negligence of another party. Your attorney is trained and experienced in knowing how the statute of limitations, the name given to laws setting time limits on the filing of claims, apply to different types of cases.
For example, if you have a claim against a government agency, your claim could require the filing of a notice with the municipality within a short time period following the accident. This filing requirement is separate and apart from the statute of limitations, but it could prevent you from being compensated if not done on time.
 What are the benefits of hiring a personal injury lawyer?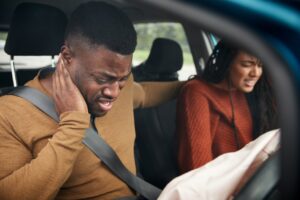 When you suffer a serious injury in a car accident, your primary focus and concern should be on making a full recovery. The vehicle accident lawyers at The Law Offices of John W. Lee, P.C., make it possible by handling every aspect of your claim from investigation through negotiations with the insurance carrier and, if a fair and just settlement cannot be reached to pay you the compensation you are entitled to receive, by aggressively pursuing a claim through the Virginia courts.
The Law Firm of John W. Lee, P.C. services clients in the following Hampton Roads cities and counties:
Virginia Peninsula cities of Hampton, Newport News, Poquoson, Yorktown and Williamsburg including York County, Gloucester County and James City County. We also serve the Southside cities of Virginia Beach, Norfolk, Portsmouth, Chesapeake, Suffolk and Smithfield.