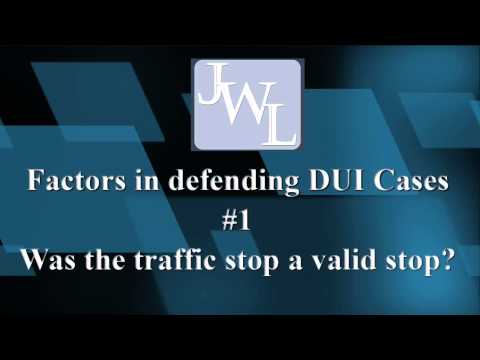 In Virginia, a DUI is a serious offense with serious penalties. It is a class 1 misdemeanor and a person convicted of DUI could get possible jail time. To be convicted of a DUI, a person must have been "operating" a motor vehicle at the time of intoxication. As the statute states, driving with a blood alcohol concentration (BAC) of 0.08 or more creates a presumption that at the time of operating the vehicle, the person was under the influence. The blood alcohol level is the percentage of alcohol found in the bloodstream after consuming alcoholic beverages. Narcotic drugs or any combination of drug and alcohol may also result in a DUI charge if they impair the ability to drive or operate a motor vehicle. If the person charged is under 21 years of age, the penalty is different.
In order for a police officer to place a person under arrest for DUI, he/she has to have some probable cause. The officer will normally observe the persons appearance and behavior, and will usually conduct field sobriety tests when the person is stopped to establish probable cause for an arrest.
Field Sobriety Tests Include :
Touching the tip of the nose with the forefinger.
One leg stand
Reciting the alphabet
Walking a straight line, heal-to-toe in one direction and turning around and walking back
Counting, usually backwards.
The officer may also ask the person to blow into a portable device to measure the blood alcohol content while at the scene. The results of this test, along with the field sobriety tests and any other observations will be used to develop probable cause for the arrest.
Usually after the person is placed under arrest, he/she will be taken to the police station and will be asked to blow into a machine called the Intoxilyzer Model 5000. This machine will measure the blood alcohol content of the breath sample. Once the test is finished, a certificate will be generated indicating the persons BAC. This certificate is called the Certificate of Analysis and will be used by the prosecutor at trial. It is not smart to refuse to blow into the Intoxilyzer Model 5000 at the station because you will be charged with refusal in addition to DUI.
At trial, the prosecutor (or police officer depending on the jurisdiction) has the burden of proving its case against the accused beyond a reasonable doubt. The officials will normally prove their case against the accused by having the officer testify to driver's appearance and coordination and driving behavior when stopped. Also, the prosecutor will normally place emphasis on the Certificate of Analysis. This is because a person with a BAC of .08 or more is presumed to be under the influence.